About Holy Trinity
Holy Trinity welcomes everyone to join us for any and all of our activities!
Family-friendly worship services, events and activities are designed to get everyone engaged and participating, sharing God's living word.
We at Holy Trinity Lutheran Church have a mission.

Our mission is to proclaim the Good News that through Jesus Christ, crucified and risen, our sins are forgiven and we are made whole. With a rich heritage in the heart of the Palmerton community, we proclaim, practice, and witness to our faith. We:
Provide a gathering place for worship and fellowship.
Commit ourselves to a faith that is learning and growing.
Care for and share the abundance God has given us.
Reach out to the community and the wider world.
Minister to and support those in need.
Welcome all who worship with us.
…This we shall do with the help of God. 
Worship with Us
Join us for Worship
Holy Trinity gathers for worship every Sunday at 10:15 a.m. and special services on festival days throughout the year.
Enjoy our celebration of God's love through Music…
Our worship life is enhanced by the talents of our members and guests, both adult and youth, who provide vocal and instrumental music – especially through our
Choir
and our
Hand Bell Choir
"Shout joyfully to the LORD, all the earth; Break forth and sing for joy and sing praises." – Psalm 98:4.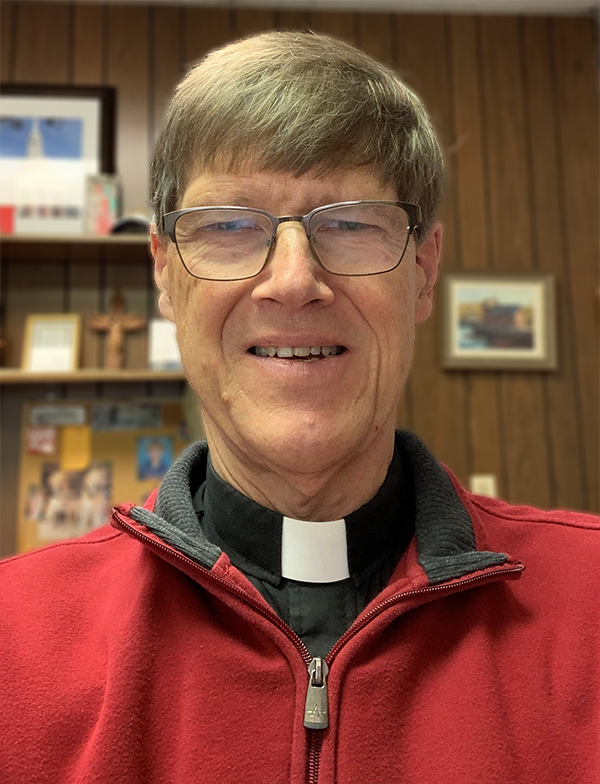 Pastor MIke Frost
Pastor Michael Frost has served as our pastor since June of 2015.
Pastor Frost was born and raised in the northern suburbs of New York City (Rockland County). He graduated from Houghton College in upstate NY in 1977 with a B.S. in Bible and then from Lutheran Theological Seminary in Gettysburg, PA, with his MDiv. in 1982. Pastor Mike was ordained by the Metro. NY Synod in 1982 and served as Assistant Pastor at Gloria Dei Lutheran Church in Huntington Station, Long Island from 1982-1985. Pastor Mike moved to the Northeastern Pennsylvania Synod in 1985 and has since served three congregations: St. John's, Williams Township in the Easton area (1985-1991); St. John's in Effort (1991-2000); and Zion's Stone Church in West Penn Township (2000-2015). In addition, Pastor Frost served as the Dean of our Hazleton/Lehighton Mission District from 2011 to 2017.
Pastor Frost and his family live in Kresgeville. His wife, Ginny, is a retired teacher, having taught First Grade in the Pleasant Valley School District for many years. Their household includes Ginny's mom, Lois; their daughter Lynann and her husband Scott, and their children Bryan (8 yrs old) and Jamie (just born in January 2022). Rounding out the Frost family is Cooper, a four-year old yellow lab.
As we continue our life and ministry together, Pastor Mike shares his excitement about so many things in our life and ministry, especially Bible study. Pastor Frost believes "Worship on the Lord's Day, gathering together around Word and Sacrament, is the center of who we are and what we do but our lives must be shaped by the Holy Scriptures as we seek to live as disciples of our Lord Jesus Christ." 
Please join us for worship on the Lord's Day or any one of our church activities to meet Pastor Mike and share in the joy and peace we have in Christ.
Contact Us
Address: 502 Lafayette Ave Palmerton, PA 18071
Office: 1-610.826-2524
Office Email: htlcoppa@ptd.net